[Introduction]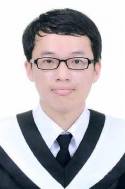 Chun-Sheng, Li, is the bachelor of National Taitung University CSIE and the master of National Taiwan Ocean University CSIE.
He usually focus on the web development, mobile computing and web backend services, he also interested in other research. Such as web sercurity, IOT applications and so on.
Sometimes he shares some technical tutorials and guides on his blog.
he hopes the readers will like these blog posts.
This link is about his Github. There are many projects on it and it also includes his all open source projects.
If you're serious or having some problems, he will feel free to send the email for the following address: peter279k@gmail.com.
And he will reply me at his available time.
[Language Skills]
He is good at the following programming languages:
PHP: 1~2 years
JavaSrcipt(including Node.js): less than 1 year
JAVA: 1~2 years
R language: less than 1 year
Python(a little): less than 1 year
[Researches]
There are some his researches are as follows:
[Experiences]
He has some experiences about the jobs, TA and so on.Here is the lists are as follows:
[University]
Do the Decoration helper and develop the books website.
Develop the 104 sports website in the campus games.
(http://dpo.nttu.edu.tw/sports/67/)
Develop the 103 water sports.
(http://dpo.nttu.edu.tw/sports/water_sports103/)
The co-funder of WTTD.
(https://sitcon.kktix.cc/events/wttd-course-2015-04-12)
(https://sitcon.kktix.cc/events/wttd-course-2015-04-11)
Create the NTTUNEWS for somene who want to look at the flexible NTTU news lists. (updating urls)
Create the WordPress Blog to record their technical notes and mood.
Join the Modern Web conference 2015 and it's his first time to join the conference.
(the related blog post: http://143.198.221.54/modern-web-conference-2015-%E9%9C%87%E6%92%BC%E6%95%99%E8%82%B2)
[Graduate School]
Do the TA of the "Software Development Practice" course in NCTU.
Do the staff of SITCON for one year. (http://sitcon.org/2016/#target-home, name: Peter)
Try to contribute the open source projects on GitHub.
Pull Requests
[Publications]
[Developing projects]
There are some developing projects are as follows: